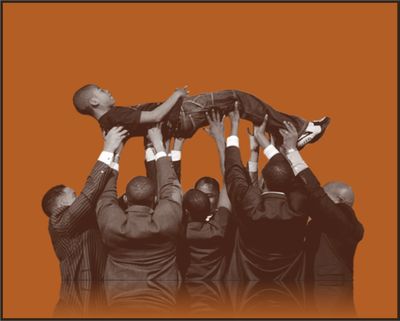 Awards
2020 Ranked on RHSU Education Week's Edu-Scholar Public Influence Rankings
2019 Rainbow Push Award for Excellence in Higher Education
2018 LSU Legend Award Recipients – A.P. Tureaud Sr. Black Alumni Chapter
2015 "Equity Champion Award" from the NYC Department of Education
2014 Penn State Black Alumni Reunion H. Jesse Arnelle / Cynthia A. Baldwin Outstanding Alumni Award
2014 & 2013 The Root 100
2014 The 30 Most Influential Forensic Psychologists Working Today emergency-management-degree.org
2013 Chart of the Day Winner & Chart of the Year Nominee: Black Men In College vs Prison. The Daily Dish.
2013 Top 25 Forensic Psychology Professors, ForensicsColleges.com
2013 Diverse Magazine, Emerging Scholar
2011 Diopian Institute for Scholarly Advancement Award for Intellectual Initiative and Academic Action
2009 IMPACT Leader for the Month of April
2006 Featured on C-SPAN2 Books for "Black Sheep: When the American Dream becomes a Black Man's Nightmare"
2005 Changing Facing Award for Outstanding Literature, EBONetworks, L.L.C. New Orleans, LA
2004 Young Research Investigator of the Year, Southern University and A & M College.
2003 WEB DuBois Fellowship Award, The US Department of Justice, National Institute of Justice.
Recognition
Washington, A (2017, December). Introducing Dr. Ivory A. Toldson. HBCU Times
Martin, M. (2014, June). Do You Want The Truth, Or Do You Just Like Your Story Better? NPR News. http://www.npr.org/2014/06/11/320997355/do-you-want-the-truth-or-do-you-just-like-your-story-better
Milloy, C. (2014, June). Young black males in the District are refusing to be counted out.

Washington Post

. http://www.washingtonpost.com/local/young-black-males-in-the-district-are-refusing-to-be-counted-out/2014/06/03/05cfc39a-eb56-11e3-b98c-72cef4a00499_story.html
DuBois, J. (2013, June 19). Named one of 30 Leaders in The Fight for Black Men. http://www.newsweek.com/2013/06/19/obamas-former-spiritual-advisor-joshua-dubois-fight-black-men-237610.html.
Savali, K. W. (2012, January 13). Dr. Ivory Toldson Charts Black Successes, Not Failures NewsOne, from http://newsone.com/nation/kirstensavali/dr-ivory-toldson-charts-black-successes-not-failures/
Freeman, S. Z. (2011, February). Professor Ivory Toldson Is Helping to Break Barriers. Capstone Magazine, from http://www.howard.edu/capstone/feb2011/feature2.html
Clark, C. (2011). Interview with Dr. Ivory Toldson. Brotha Online.
Martin, M. (2011, October 12). Debunking Black Marriage Myths. NPR News, from http://www.npr.org/templates/story/story.php?storyId=141267758
Chideya, F. (2009, January 15). Inside The Mind Of A Criminal. NPR News, from http://www.npr.org/templates/story/story.php?storyId=99405740
Griffin, C. E. (2009). School matters: How African-American Males Can Succeed in School. New America Media from http://news.newamericamedia.org/news/view_article.html?article_id=c8ec8bec183f89091a61cdc015f1a6c8
Roger, R. (2009, September 5). A simple map to school success. The Virginian-Pilot
The Washington Post. (2008, January 6, 2008). Ready for 2028, IVORY TOLDSON, 34, D.C. The Washington Post, p. N04, 2011 Featured in Howard University Capstone Magazine's "Professor Ivory Toldson Is Helping to Break Barriers"
Bethea, G. S. (2007, Fall 2007). Improving the Lives of African American Males in the 21st Century. Quest Research at Howard University.